PRODUCT DETAIL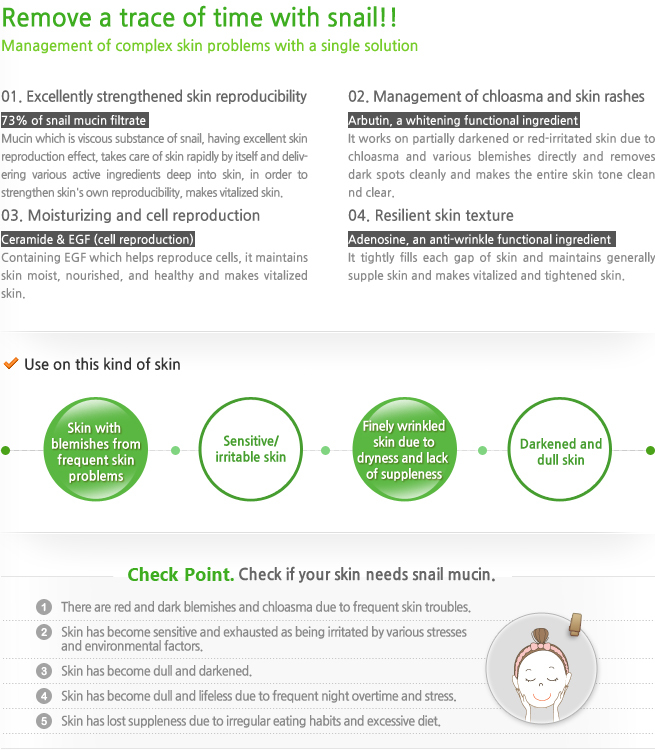 ■ Containing 73% of snail mucin filtrate
■ Premium serum containing highly-concentrated snail substance, that prevents skin from being dry by maintaining moisture
■ It adjusts skin balance with refreshing sensation and mixed fruit extract and adenosine deeply nourish skin and make skin healthy and improve wrinkles.

Skin type: It is applicable to every skin type.
Directions
Even out skin tone with toner after washing and apply to the whole face evenly in a massaging movement from outer side to the center, starting from neck, and make it absorbed with light tapping
Main ingredients
73% of snail mucin filtrate
Mixed fruit extract
Adenosine (certified anti-wrinkle ingredient)
Ceramide & EGF (cell reproduction)
Arbutin (whitening)
Precautions
1. Stop using the product if there is any of the following abnormal symptoms appeared after its use and consult with your dermatologist as the symptoms can get worse with its continuous use.
A) If there are red spots, swelling, itchiness, or irritation
B) If the above symptoms appear on skin area, where the product has been applied, after being exposed to direct sunlight
2. Do not use the product on any skin area with wound, eczema, and dermatitis.
3. Precaution on storing and handling
A) Make sure to close the cap after use.
B) Keep out of the reach of children.
C) Do not store this in a place with high or low temperature or a place getting direct sunlight.